The HPP Employees Multipurpose Cooperative has entered into a partnership agreement with Reyes & Co. Law Offices ("Reyes Law") to be HPPCOOP's official legal firm. Under the partnership, Coop Members will be able to avail of legal services from Reyes Law at preferential rates while employees from Reyes Law will be able to join HPPCOOP as Associate Members.
Reyes Law is a small law firm based in San Mateo, Rizal that provides various legal and notarial services. "With most everyone needing legal assistance at some point, HPPCOOP's partnership with Reyes Law is a welcome development and very timely.", said HPPCOOP Chairperson, Annie Rose Samson.
"We thank HPPCOOP for this partnership and are very excited to avail of the many benefits of HPPCOOP especially the affordable HMO as well as the different savings and loan products that you have." shared Atty. John Erwin Reyes of Reyes Law.
More information to follow as to how members may avail of Reyes Law services. For now, let us welcome Reyes Law to the HPPCOOP family!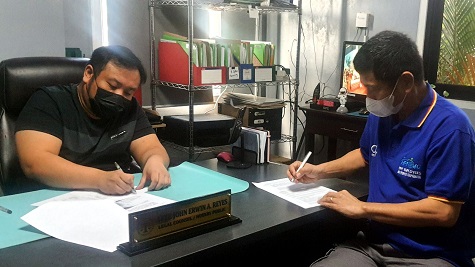 Photo shows Atty. John Erwin Reyes and Val Hilario signing the MOA at the Reyes Law office in San Mateo, Rizal on January 7, 2023.